February Contest
at LVI - Unusual Triangles.
Poor Ana is treated so badly by Charlie. Stealing, doing drugs, drinking, cheating around with another woman... Charlie is such a bad boy. Will Ana do something about it? This is my first AU I'm making and I'm extremely nervous about it... However, I found building your own story oh so very fun! I might even do it again. ;-)
I made this video for
jellyfrog
- the last Chana shipper!! I know you'll like this one jelly! Thank you for enduring all the PB&J nauseous fluffiness over the last months. ;-)
I would like to thank
pacejunkie
for sending me the movie "Shooting Livien" - a film Dom made just before Lost... therefore he totally has the Charlie look in it. There's not much flashback material I could use for Charlie in this video (he's way too sweet in his Flashbacks - well, most of the time anyway!) so that Shooting Livien footage helped tremendously! THANK YOU FOR ALL THE TROUBLES!!!!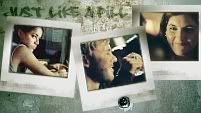 whoa graphic by
jellyfrog
This is my entry for the
Current Mood:

horny

Current Music:

Pink