I believe this is my best video ever! It really helps when you are motivated.... After I saw
gigglemonster
's
Surrender
vid, I felt the urge to make an effect-heavy vid too. I first heard the song 'Before the Dawn' in a beautiful
Jacket vid
by Michelina and I fell in love with it... and contrary to almost all other Evanescence songs, this one hasn't been vidded to death!!
As for the vid theme, I wanted to make a video about Kara and Lee that wasn't overly shippy - they could be brother and sister and you could seriously watch that vid without any irk factor! I wanted to parallel their experiences with Zak's death, parental issues, destiny issues... I wanted to highlight their deep connection.
As for the technical side, I don't think I've done a vid this complex before! I hope it was worth all the efforts!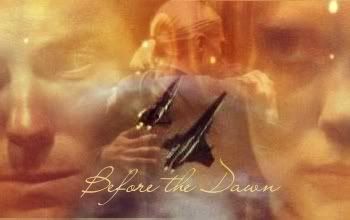 graphic by jellyfrog

Title: Before the Dawn
Song and Artist: Before the Dawn by Evanescence
Fandom/Pairing: Battlestar Galactica, Kara & Lee
Size/Lenght: 37MB/3:15
Warnings: clips up to Crossroads part II, very spoilery.

Download Link (zshare)
Download Link (megaupload)
Download Link (fileden)


Current Mood:

energetic