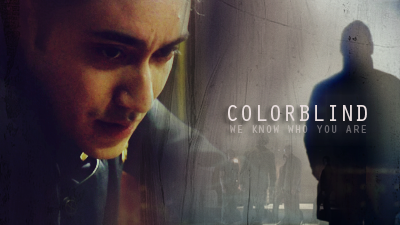 Title
: Colorblind
Song and Artist:
Colorblind by Counting Crows
Fandom/Pairing:
Battlestar Galactica/Felix Gaeta (with appearances by Baltar, Dee, Starbuck, Sweet Eight and Adama)
Size/Lenght:
39MB/3:32
Warnings:
clips up to Blood on the Scales
Note
: I suggest you download as there is some audio problems with the imeem streaming.
This video was a long time coming. I wanted to make a video about Felix Gaeta since April 2008, the start of season four. However, given the very little screentime the guy gets, I decided to wait until I had every clip available in order to make the best vid I could. I was hoping I wouldn't be able to star until the end of the series but unfortunately, it happened before.
I'm not good coming up with words and descriptions about my vids. But I'd like to say a few words about this one since I was so conflicted about it. To be honest, after watching "The Oath" I didn't want to have anything to do with Felix Gaeta and even less make a whole vid about him. After the anger faded, after watching "Blood on the Scales", I realized that I loved the character even more. And he deserved a tribute video!
The song idea came from
falafel_musings
and the ending was inspired by her fic
A Prayer for Felix Gaeta
. Thank you so much for giving me the song suggestion Cappy! It's a beautiful slow song with quiet parts that allowed me to insert audio. I don't do audio very often because it's very difficult to get it just right but, in this case, I thought it worked very well. I wanted to show how trusting Felix was and how it lead to disaster - for himself and the remaining of human kind. I also wanted to show his heroism and his goodness. He always wanted to do the right thing, even if it had terrible consequences to himself (and yes, admit it, others). A tragic character and I hope I did him justice in this video.
Download link
(zshare)
Download link
(megaupload)
Current Mood:

melancholy